23 Jan 2018
Olanzapine- antipsychotic drug (atypical antipsychotic), structurally and similarly to clozapine. It is used to treat schizophrenia and bipolar affective disorder. Has a wide range of psychopharmacological effects and has antidepressant effect.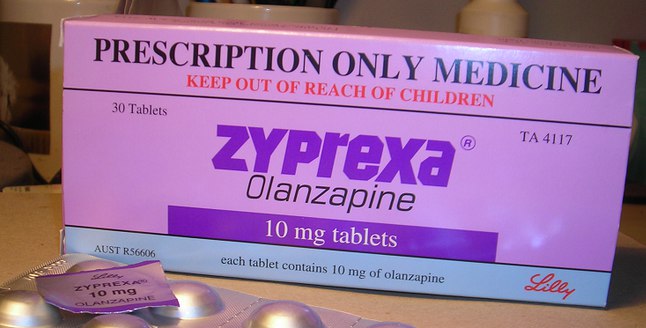 Trade names: Olanzapine, Normiton, Olanex, Parnasan, Zalasta, Ziprexa, Egolansa
It is also produced in combination with fluoxetine called Symbiax for the treatment of bipolar depressive episodes and resistant depression.
In preclinical studies, the affinity of olanzapine for serotonin 5-HT2A, 5-HT2C, 5-HT3, 5-HT6, dopamine D1, D2, D3, D4 and D5, muscarinic (1..5), adrenergic α1 and histamine H1 receptors has been established. In experimental studies, the presence of antagonism of olanzapine with respect to serotonin receptors, dopamine and cholinergic receptors has been revealed. In vivo and in vitro, olanzapine has more pronounced affinity and activity with respect to 5-HT2 compared to D2 receptors.
According to electrophysiological studies, olanzapine selectively decreases the excitability of mesolimbic dopaminergic neurons, and at the same time has a negligible effect on the striatal neural pathways involved in the regulation of motor functions. Olanzapine reduces the conditioned protective reflex (a test characterizing antipsychotic activity) at doses lower than the doses causing catalepsy (a disorder reflecting a side effect on the motor function). In contrast to the "typical" antipsychotics, olanzapine enhances the anti-anxiety effect during the anxiolytic test.
Two placebo-controlled and two out of three comparative controlled trials involving 2,900 schizophrenic patients showed that olanzapine provides statistically significant reduction in the short term as productive (including delusions, hallucinations) and negative disorders. Data on the effect of different doses of olanzapine on negative symptoms are not completely consistent; perhaps the reduction in severity of negative disorders is explained by the action of olanzapine on secondary negative symptoms (eg, caused by drug parkinsonism or psychosis), rather than by direct action on primary negative symptoms.
According to the meta-analysis, olanzapine is superior to haloperidol in the likelihood of success of therapy, improvement in the severity of mental disorders, and a decrease in the severity of productive and negative disorders. According to some studies, olanzapine is superior to haloperidol in its effect on cognitive function, in other studies no difference was found. Studies show that relapses with olanzapine are significantly less frequent than when taking haloperidol.
Indications
~ treatment of exacerbations; supportive and long-term anti-relapse therapy for schizophrenia and other psychotic disorders with marked productive (including delirium, hallucinations, automatism) and / or negative symptoms (including emotional flattening, decreased social activity, impoverishment of speech) and symptomatic accompanying affective disorders;
~ Treatment of acute manic or mixed seizures in bipolar affective disorder. can be used to treat stimulant psychoses.
At the beginning of treatment, especially when choosing a dosage, it is necessary to observe: extrapyramidal side effects, orthostatic hypotension and reflex tachycardia, drowsiness, weight gain, hyperglycemia and hyperlipoproteinemia are possible. The risk of orthostatic hypotension increases with combined use of olanzapine with benzodiazepines. Drowsiness at the beginning of treatment develops often, so it is better to take the drug at night.
Caution should be given to patients with a reduced number of leukocytes and / or neutrophils, due to various causes; with signs of oppression / toxic damage to bone marrow function under the influence of drugs in the anamnesis; with oppression of bone marrow function due to concomitant disease, radiotherapy or chemotherapy in history; with hypereosinophilia or myeloproliferative disease. In clinical studies, the use of olanzapine in patients with clozapine-dependent neutropenia or agranulocytosis in a history was not accompanied by relapses of these disorders.
When olanzapine is prescribed for the first time, it is necessary to evaluate the probability of weight gain by the patient, taking into account his body mass index, anamnesis, the general clinical feeling of propensity to fullness - pastness, friability. Observing the patient taking olanzapine, it is important to consider the main principle of weight gain control: seven percent of the initial increase in body weight is an absolute contraindication to the further use of the drug.
For the prevention of obesity and its complications (in particular, diabetes mellitus) it is necessary:
~ Monitor before taking antipsychotics and during their intake of body weight and body mass index, fasting glucose (or hemoglobin A1c) and lipid levels in the blood plasma. The fasting glucose level should not exceed 126 mg / dl, hemoglobin A1c - not exceed 6.1%. To detect hyperglycemia, it is also desirable to measure not only the fasting glucose level, but also the level 2 hours after taking glucose. In patients with risk factors (family history, overweight), monitoring of glucose levels should be carried out every 2-4 months. All patients are also advised to measure blood pressure before starting therapy and during therapy.
~ Dose of antipsychotic to build up slowly, which allows you to partially prevent weight gain. In this case, the first weeks of neuroleptic therapy are especially important, since it is much easier to prevent weight gain than to decrease it in the future.
~ Treat attentively to the lifestyle and diet of the patient. It is necessary that food is as low as possible in terms of calories, and the way of life is much more active. In this diet and exercise require careful dosing. ~ It is recommended to reduce intake of saturated fats and cholesterol, increased consumption of fibrous food. Smoking is also recommended.
~ If significant weight gain is seen, refer the patient to a dietician and a physiotherapist.
~ When taking high doses of neuroleptic - a cautious approach to its combination with other diabetogenic drugs (beta-adrenoblockers, glucocorticoids, protease inhibitors, thiazide diuretics).
To prevent the development of life-threatening conditions associated with diabetes (acidosis and coma), it is necessary to recognize early and begin treatment of developing diabetes. Psychiatrists with olanzapine therapy should be wary of such symptoms of diabetes as weight loss, drowsiness, thirst, polyuria, if necessary, provide the patient with an endocrinologist's advice.
With the use of olanzapine, malignant neuroleptic syndrome, a potentially lethal symptom complex, whose clinical manifestations include a significant increase in body temperature, rigidity of the musculature, changes in mental status, and autonomic disorders (unstable pulse or arterial pressure, tachycardia, cardiac arrhythmia, increased sweating) may develop.
In comparative studies lasting more than 6 weeks, treatment with olanzapine was significantly less likely to be accompanied by the development of tardive dyskinesia (an irreversible neurological side effect) than the use of haloperidol. However, it is still necessary to consider the risk of this side effect with prolonged therapy with neuroleptics. When developing signs of tardive dyskinesia, it is recommended to reduce the dose or to cancel olanzapine. Symptoms of tardive dyskinesia may increase or manifest