30 Oct 2019
Antidepressant: Moclobemide
Active ingredient: Moclobemide (moclobemide)
Analogs: Aurorix, Trazodone, Mannerix.
Moclobemide is a drug related to reversible MAO inhibitors. Causes an increase in the concentration of serotonin, noradrenaline and dopamine in the brain. It has a beneficial effect on mood, increases psychophysical activity, improves concentration of attention. Normalizes sleep, allows you to get rid of the manifestations of phobias. A distinct positive effect is observed by the end of the first week of taking moclobemide.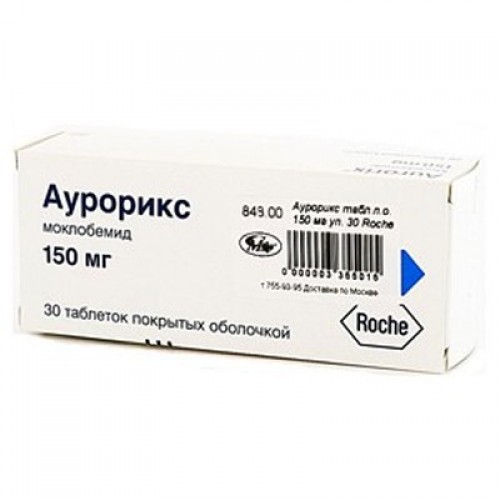 Numerous clinical studies have shown that the drug successfully fights against depression of a very different structure. He is able to completely rid the patient of such unpleasant symptoms of depressive states as apathy, melancholy, depression, discouragement, irritability, loss of the opportunity to enjoy life, feelings of isolation, coldness, indifference. The drug regains lost self-esteem and makes dark thoughts and intentions disappear, including suicidal ones. Relieves anxious expectations and fears (such as the fear of death, for example), relieves pain of a different nature. In addition, it has been proven that moclobemide has a therapeutic effect in the most severe and resistant forms of depression. Moreover, the drug is often effective where traditional tricyclic antidepressants do not.
Indications for use: Depressions of a variety of etiologies: involutional and senile, reactive, neurotic, and also depression, arising against a background of chronic alcoholism, schizophrenia and manic-depressive psychosis. In addition, moclobemide is taken as a means to combat social phobia.

Contraindications: Moclobemide should not be used in people with hypersensitivity to the drug or its individual components, acute states of agitation, confused consciousness, as well as pregnant and lactating women. In addition, it is prohibited to take the drug in childhood, as well as with the simultaneous use of selelgin.

Dosage and administration: Moclobemide is taken orally, 2-3 times a day after meals. The initial dosage is 300 mg / day, but if necessary, can be increased up to the maximum allowable 600 mg / day. In this case, increase the dose should not be earlier than after the first week of taking moclobemide. The duration of treatment should be determined based on the specific situation. In case of obvious improvement, the dose should be smoothly reduced.

Side effects: The following side effects of moclobemide are possible: anxiety, general agitation, anxiety, headache, dizziness, deterioration of sleep, blurred vision, increased sweating, dry mouth, heartburn, constipation, nausea.
Selling from pharmacies: It is released without a prescription.