19 Feb 2019
Antidepressant: Marplan
Active ingredient: Isocarboxazid (isocarboxazid)Analogs: Enerzer, Marplon
Isocarboxazid belongs to the class of antidepressants that inhibit MAO and, as a result, eliminate depressive states along with such manifestations as melancholy, guilt, uselessness, loss of ability to enjoy life, low self-esteem, etc. One of the clinical studies of the effectiveness of this drug showed that 86.7% of people who suffered from depression and who took this antidepressant felt about 50% improvement in their condition.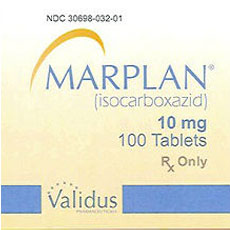 In addition, Isocarboxazid is effective in the treatment of depressive states, accompanied by excitability and phobias. Often the drug brings relief, even if all other antidepressants did not help.
Indications for use: Treatment of depressive conditions (as a rule, it is recommended to use this drug in the treatment of short-term depressions that are not subject to other types of treatment).

Contraindications:

- Childhood;
- Dysfunction of the liver;
- Cerebrovascular diseases (diseases of cerebral vessels);
- Severe cardiovascular diseases;
- Tumor adrenal glands;
- Allergy to any component in the formulation;
- Manic phase of manic-depressive syndrome.

Dosing and Administration: Isocarboxazid can be taken separately from a meal, with plenty of water.
To achieve the optimal effect, the dosage of the drug should be based on individual observations. Use Isocarboxazid should be started with 10 mg twice a day. With a positive tolerance, the dosage can be gradually increased (+ 10 mg every 2-4 days) up to 40 mg / day. If necessary and no negative reaction of the body, the dosage can be increased by 20 mg per week. The maximum daily dose is 60 mg. If there is a complete cure, you should stop the drug gradually reducing the dose. In the event that no tangible changes occur after 3-6 weeks of taking Isocarboxazid, further use of the drug is usually useless.

Side effects: Medicines, including antidepressants, affect different people in different ways. Therefore, if one of the side effects occurs in one patient, this does not mean that the others will react the same way.

Most often manifested: dry mouth, forgetfulness, fatigue, weakness, constipation, diarrhea, orthostatic hypotension, dizziness, drowsiness / insomnia, headaches, increased sweating, nervousness, heart rhythm disturbances.

Storage: Store in a dry place inaccessible to children at room temperature.