24 Jul 2018
The diabetic foot syndrome is a complex of pathological changes in the peripheral nervous system, arterial and microcirculatory bed, which directly threaten ulcerative necrotic processes and foot gangrene in diabetic patients.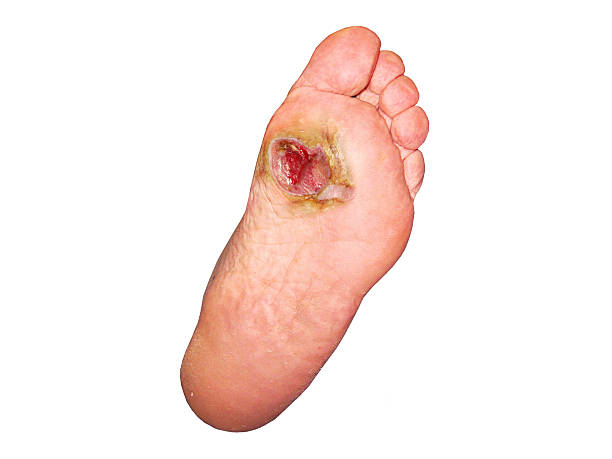 The syndrome of diabetic foot occurs in 4-10% of patients with diabetes mellitus. Mortality in elderly and senile patients with purulent-necrotic complications and gangrene of the extremities in diabetes mellitus reaches 20%. The factors of ulcerative-necrotic and purulent complications of feet are:
the presence of neuropathy and angiopathy;
deformities and swelling of the foot;
skin condition - dryness, atrophy, turgor, cracks, hyperemia;
ulcerative-necrotic complications in the anamnesis;
diabetic retinopathy and nephropathy;
elderly age;
lonely residence of the patient;
overweight;
smoking and alcohol abuse;
the presence of concomitant pathology, its severity and relationship with underlying pathology.
Prevention of complications of diabetic foot suggests:
- compensation for diabetes mellitus;
- early detection of patients with an increased risk of developing a diabetic foot syndrome;
- the risk rises with age and duration of the disease;
- inspections by a specialist for urgent measures;
- training of patients with the rules of foot care;
- examination by the dermatologist of the skin of the lower extremities of the patient with diabetes mellitus in order to detect mycosis at least once a year;
- Improve skin trophism and protect the skin barrier from external influences.
Fixed assets

Angioprotectors and correctors of microcirculation: Trental 400, Actovegin, Memoplant, Ginkoum, Doxilek, Calcium dobezilate tablets 250 mg, Complenamine, xanthinal nicotinate, Xanthinal nicotinate injection 15%, Agapurin, Agapurin 600 retard, Agapurin retard, Agapurin SR, Vazonite, Pentamon , pentoxifylline, Radomin, Trenpental, Trental, Troxerutin Lechiva, Dicynon, Angiovit, Solcoseryl, and others.

Antiaggregants: Ralofect, Raloect 300 N, etc.

Anticoagulants: Piyavit, Wessel Douay F, et al.

Carbapenems: Invanz et al.

Quinolones / fluoroquinolones: Avelox, Heinemox, Ciprolet A, Cyphran ST, etc.

Cephalosporins: Zeftera and others.

Hypoglycemic synthetic and other agents: Reclid, et al.

Calcium channel blockers: Cynedyl, cinnarizine, Cinnasan, and others.

n-anticholinergics: Midokalm, Midokalm-Richter, and others.

Serotonergic drugs: Serotonin, Serotonin adipate, etc.
Additional resources

Alpha-blockers: Redergin, Nicergolin, etc.

Antioxidants: Vitamin E, ascorbic acid, Mexidol and others.

Antiseptics and disinfectants: Betadin et al.

Dermatotropona funds: Balsamed intensiv balm for intensive daily care for dry sensitive skin of feet, Balsamed balm for daily care for sensitive skin of feet, Milgamma cream for foot care, Flexitol balm for foot care, etc.

Substitutes of plasma and other components of blood: Infukol GEK et al.

Immunomodulators: Derinat, Erbisol, Polyoxidonium, etc.

Correctors of cerebral circulation disorders: Cinnarizin Sopharma et al.

Enzymes and antiferments: Izodibut et al.