20 May 2019
Antidepressant: Velaxin (Tianeptine)
Active ingredient: venlafaxine (Venlafaxine)
Synonyms: Velafax, Ephevelone, Effexor, Phenethyls, Ephektin, Velaksor.
Velaxin (venlafaxine) belongs to the class of antidepressants-serotonin reuptake inhibitors and norepinephrine. In addition to arresting the reuptake of these two neurotransmitters, the drug has a weak blocking effect on the reuptake of dopamine. It is generally believed that the basis of its antidepressant effect is its ability to enhance the transfer of impulses between neurons of the central nervous system.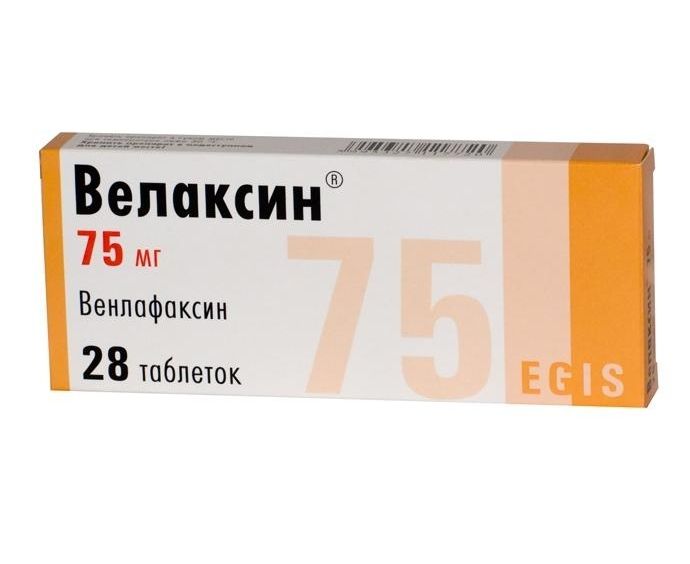 Studies of the efficacy of venlafaxine in the treatment of depressions of varying severity have shown that the drug is able to quickly remission. So, just after a month of treatment with venlafaxine, every second patient achieves remission. If the drug is taken within 3 months, the chance of remission is 80%. In this respect, velaxin (venlafaxine) shows almost the best results among all antidepressants. The drug positively affects the various components of the depressive syndrome, while possessing a high degree of safety for the average person.
Indications for use: Treatment and prevention of depression (including those accompanied by increased anxiety).

Contraindications: Do not take pregnant women (and breastfeeding mothers); children under 18; with hypersensitivity to substances in the drug, as well as simultaneously with MAO inhibitors (wait at least a week).

Dosage and administration: Velaxin is taken with food, inside, without chewing and washing with a lot of water, best at the same time. Do not grind, dissolve in liquids, mix with food, etc.

It is recommended to start taking the drug from a dosage of 37.5 mg twice a day. Subsequently, the dose may be increased (by 75 mg / day every four days). The maximum daily dose for treatment of moderate depression is 225 mg (it must be divided into three doses), for the treatment of severe depressions - 375 mg (also 3 doses).

With a clear violation of kidney function should reduce the dose by 25-50%. At the time of hemodialysis, the dose should be reduced by half, and taking velaxin (venlafaxine) should be at the end of the session.

If liver function is impaired, the dosage should be reduced by half and even (if required) more.

The drug should be withdrawn gradually. For example, if the course of treatment was 6 weeks, the cancellation period should last at least 2 weeks.
Side effects: The most frequent: dizziness, weakness, asthenia, insomnia, tremor, hypertension of muscles, increased excitability, increased blood pressure, vomiting, nausea, decreased appetite, decreased libido, disruption of accommodation.

Storage conditions: Dry, inaccessible to children place, room temperature (not above 25 ° C).
Terms of selling from pharmacies: Velaxin (Venlafaxine) is released on prescription.